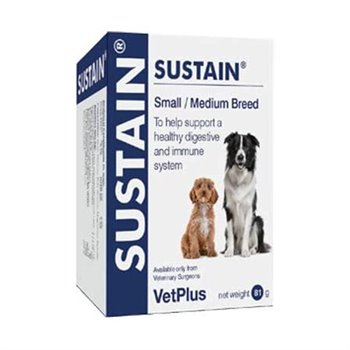 Sustain for Dogs is a nutritional supplement to help support a healthy digestive and immune system in dogs under 20kg.
Sustain for Dogs is the first product to combine the benefits of two synergistic probiotics. Sustain helps to maintain a healthy gastrointestinal bacterial population, and supports the immune system both within the gastrointestinal tract and body wide.
The efficacy of Sustain Supplement for Dogs can be attributed to its potent ingredients:
Enterococcus faecium & Bacillus subtilis: These two authorised probiotics form the core of the supplement.
MacroGard: A natural beta-glucan that supports immune function.
Inulin: A prebiotic that promotes the growth of beneficial gut bacteria.
L-Threonine: An amino acid that supports gut health.
B-Vitamins & Zinc Amino Acid Chelate: Essential for overall health and well-being.