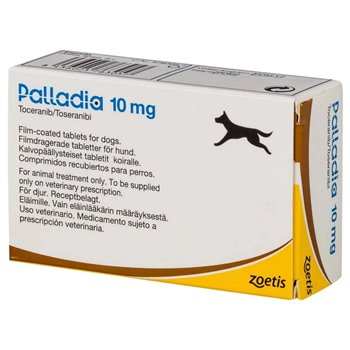 Palladia 10mg for Dogs - Treatment for Mast Cell Tumours in Dogs
Mast cell tumours are a prevalent type of cancer in dogs, responsible for a large portion of all canine skin tumors. These malignant growths develop from mast cells, a type of white blood cell. Early detection and appropriate treatment are crucial in managing this condition, and 10mg Palladia for dogs provides a highly effective solution.
10mg Palladia for dogs lies in its ability to target specific proteins involved in the growth and spread of cancerous cells. By inhibiting the activity of these proteins, Palladia effectively halts tumor progression. This targeted approach allows 10mg Palladia to attack the cancerous cells while sparing healthy ones, reducing the overall side effects on your dog.
How do 10mg Palladia Tablets Work?
The active substance in Palladia 10mg Tablets is toceranib phosphate. This compound belongs to a class of medicines known for their anticancer activity. Toceranib functions as a receptor-tyrosine-kinase inhibitor. In simpler terms, it blocks specific enzymes known as tyrosine kinases. These enzymes are found in mast-cell tumours and play a pivotal role in the growth and spread of cancer cells and the development of blood vessels. By inhibiting these enzymes, Palladia Tablets for Dogs can control abnormal cell growth and prevent the further progression of the tumour.
VET PRESCRIPTION REQUIRED