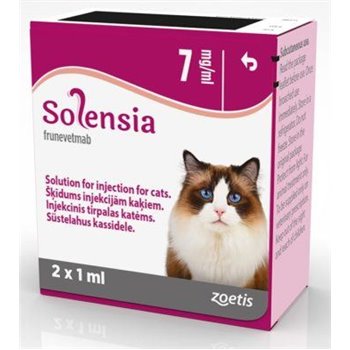 Solensia for Cats is a revolutionary solution designed to control the pain associated with feline osteoarthritis (OA), a common condition that affects many cats as they age. This innovative product is a monoclonal antibody therapy, administered by injection once a month by a veterinary professional, or at home.
Solensia works by targeting a specific protein called Nerve Growth Factor (NGF). In arthritic joints, levels of NGF are elevated, contributing to the pain and inflammation associated with the condition. The active ingredient in Solensia for Cats, frunevetmab, is a feline monoclonal antibody that binds to NGF, inhibiting its action and thereby controlling pain and reducing inflammation.
Solensia is a refrigerated medication - We will send it via Royal Mail Special Delivery using insulated packaging and ice packs. A signature is required on delivery and it must be put straight into a fridge. VETERINARY PRESCRIPTION REQUIRED.
Clinical studies have shown that Solensia for Cats effectively controls arthritis pain, with 77% of cat owners reporting improvement in signs of pain when their cats were treated monthly with Solensia in a 3-month study. This improvement in pain control can lead to enhanced mobility, comfort, and overall well-being for your cat.