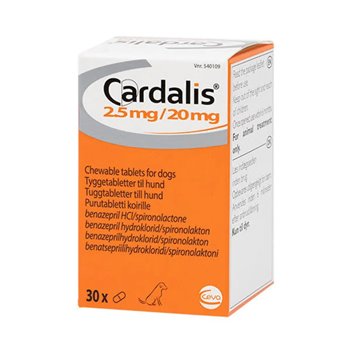 2.5mg/20mg Cardalis for Dogs is a new treatment for congestive heart failure and combines the diuretic Spironolactone with the ACE inhibitor Benazeapril.
Cardalis 2.5mg/20mg is a prescription medication used for the treatment of congestive heart failure caused by chronic degenerative valvular disease in dogs (with diuretic support as appropriate). Cardalis is also used to treat conditions such as acute mitral insufficiency, chronic mitral insufficiency, and heart murmur.
VET PRESCRIPTION REQUIRED.