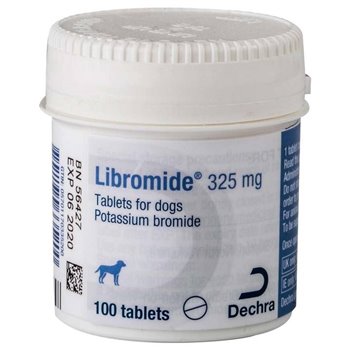 Libromide Tablets are a potassium bromide-based prescripiton medication that functions as an anticonvulsant, helping to reduce the frequency and severity of seizures in dogs with epilepsy. 325mg Libromide tablets works by stabilising the electrical activity within the dog's brain, thereby minimizing the likelihood of seizure episodes.
Potassium bromide, the active ingredient in Libromide for Dogs is often prescribed as a first-line treatment for dogs with epilepsy or as an adjunctive therapy in conjunction with other anticonvulsant medications, such as phenobarbital (Epiphen), when seizures are not adequately controlled.
Libromide is indicated for use as an anti-epileptic therapy adjunct to phenobarbital in refractory cases of epilepsy in Dogs, characterised by tonic-clonic and/or myoclonic seizures.
VET PRESCRIPTION REQUIRED