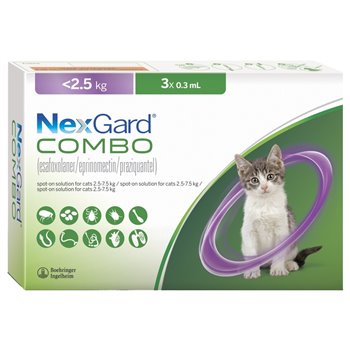 Nexgard Combo for Small Cats: Comprehensive Protection
Nexgard Combo is a spot-on solution specially formulated for cats that are at risk from or already have mixed infections caused by worms, fleas or ticks (cestodes, nematodes, and ectoparasites). Nexgard offers protection against fleas for a month and ticks for up to 5 weeks. Nexgard is effective in treating common worms such as roundworms, hookworms, tapeworms, and even ear mites.
For small cats weighing up to 2.5kg, Cat Nexgard Combo is an ideal choice. It can be safely used on kittens over 8 weeks old. The product contains active ingredients like Praziquantel, Esafoxolaner, and Eprinomectin, which work in tandem to provide the desired protective effects.