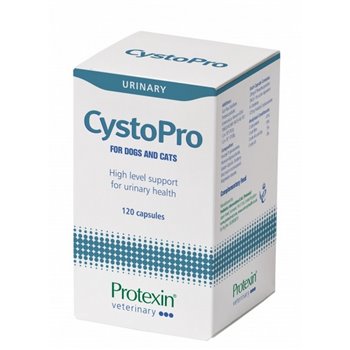 Cystopro for Cats and Dogs is a scientifically formulated supplement designed to support your pet's urinary tract health. This innovative product presents a holistic approach to maintaining optimal urinary health in your pets, be they cats or dogs.
At the heart of Cystopro's effectiveness is its unique blend of ingredients. These are selected for their synergistic benefits, thus offering a multi-faceted approach to urinary health. The formulation includes glucosamine, which aids in maintaining the integrity of the bladder lining. Cystopro is enhanced with potent antioxidants called Proanthocyanidins that help reduce oxidative stress within the urinary system and with probiotics.
Research suggests that urinary health in pets can be compromised due to various factors, including age, diet, and environmental stressors. Cystopro works by providing essential nutrients that support the natural defence mechanisms of your pet's urinary system.
One of the key advantages of Cystopro is its ease of use. Administering Cystopro for Cats and Dogs is very straightforward. It can be given directly or mixed with food, ensuring your pet gets the required dosage without any fuss.
120 Capsules