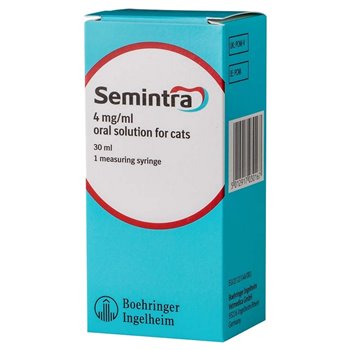 30ml Semintra for Cats is a revolutionary product designed to combat proteinuria associated with CKD. Chronic kidney disease (CKD) in cats is a prevalent condition, especially as they age. One of the significant concerns associated with CKD is proteinuria, the unwanted loss of proteins in the urine. Addressing this issue is crucial for the overall health and well-being of your cat.
Proteinuria is not just a symptom but a direct contributor to the progression of CKD in cats. When proteins, which are usually retained in the body, are lost through urine, it can lead to a decrease in protein levels in the blood. This can result in various complications, including an imbalance in fluid retention and susceptibility to infections. Therefore, managing proteinuria is a pivotal step in treating CKD.
Semintra 30ml for Cats is an oral solution containing telmisartan, an active substance that plays a crucial role in reducing proteinuria. Telmisartan is an angiotensin receptor blocker (ARB). It works by modulating the renin-angiotensin-aldosterone system (RAAS), a system that can contribute to kidney damage when overactivated. By blocking specific receptors in this system, Semintra for Cats ensures that the harmful effects are mitigated, leading to a reduction in proteinuria.
30ml. VETERINARY PRESCRIPTION REQUIRED