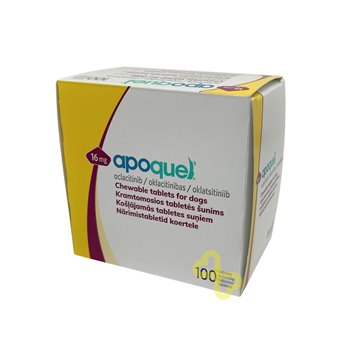 16mg Apoquel for dogs is a prescription medication that is used to treat a variety of skin conditions in dogs. Apoquel works by blocking the signals that cause itching and inflammation, providing relief from symptoms associated with acute and chronic canine pruritus.
Canine pruritus (itchiness) is a condition that causes itching and inflammation of the skin in dogs. This condition can be caused by a variety of factors, including allergies, fleas, mites, and bacterial infections. Acute pruritus is a sudden onset of itching, while chronic pruritus is a more persistent form of itching that lasts for an extended period. Both types of pruritus can be debilitating for dogs, causing discomfort, pain, and even skin infections.
16mg Apoquel for dogs works by inhibiting the production of cytokines, which are molecules that contribute to inflammation and itching. By blocking these signals, Apoquel helps to reduce inflammation and provide relief from itching. Unlike other medications that suppress the immune system, Apoquel targets only the cells involved in the inflammatory response, minimizing the risk of side effects.
VET PRESCRIPTION REQUIRED