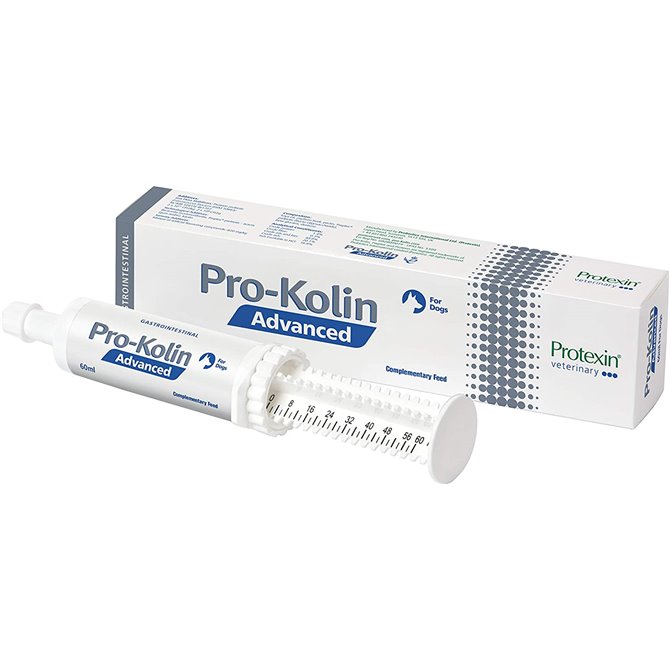 Pro-Kolin Advanced for Dogs - 60ml
Pro-Kolin Advanced for Dogs is a highly palatable paste that contains beneficial micro-organisms, several prebiotic sources, an optimal level of dual source binding agent and soothing fibres to support gastrointestinal function. Contains no proteins or common allergens and can be used in animals with known hypersensitivities. 60ml Tube
Product Features
add remove
Pack Size: - 60ml
Target Animal: - Dog (Canine)
Related Condition: - Supports gastrointestinal function in Dogs
Pet Prescription Required?: - No
Active Ingredient: - Prebiotics, Binding agent, Fibre, Beta-glucans
Product Name: - Pro-kolin Advanced Paste for Dogs - 60ml
More Information
add remove
Description
Pro-Kolin Advanced for Dogs - Supporting a healthy digestive system in dogs
Protexin Pro-Kolin Advanced is a palatable paste for the nutritional support of gastrointestinal function in dogs. It combines dual-source binding agents and prebiotics to help regulate intestinal motility, firm the stool, restore normal fermentation and exclude pathogens from the gut. It also contains beta-glucans and vitamin B to support the immune system.
Pro-Kolin Advanced is an easy to administer paste which contains prebiotics, probiotics and binding agents that can help when your dog needs support with their gastrointestinal function. PROKOLIN ADVANCED also offers firming up faeces and regulating intestinal motility. A balanced combination of beneficial bacteria and soothing fibres can help to support the gastro-intestinal tract and digestive system in dogs.
Pro-Kolin Advanced contains no proteins or common allergens and can be used in animals with known hypersensitivities.