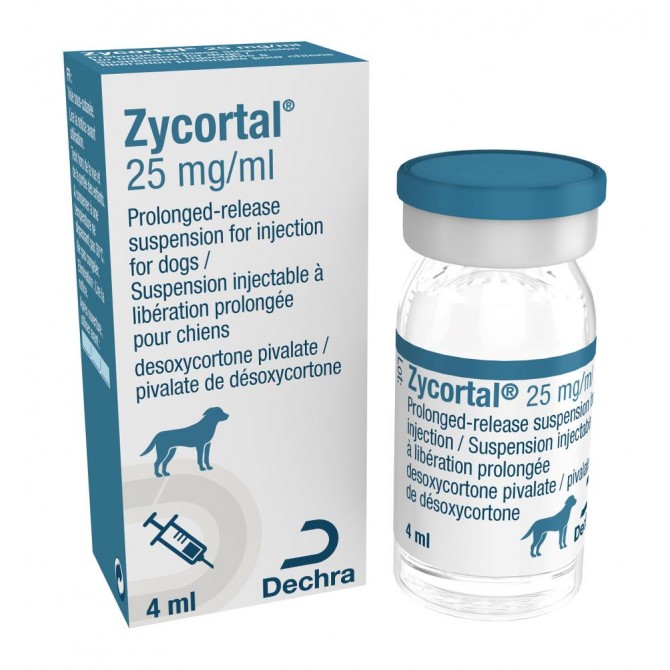 Zycortal for Dogs is the new licensed treatment for Addisons Disease in Dogs and replaces Florinef Tablets. VETERINARY PRESCRIPTION REQUIRED.
Pack Size: - 4ml Vial
Target Animal: - Dog (Canine)
Related Condition: - Addisons Disease in Dogs (Hypoadrenocorticism)
Pet Prescription Required?: - Yes
Active Ingredient: - Desoxycortone Pivalate (DOCP)
Product Name: - Zycortal for Dogs
More Information
add remove
Description
Zycortal for Dogs with Addisons
Zycortal may only be supplied with a valid veterinary prescription issued by your vet. You should only purchase Zycortal if you have or are in the process of arranging such a prescription. See information bar for further details.  
Zycortal is the only European licensed treatment for Addisons Disease in Dogs. Hypoadrenocorticism, also known as Addison's disease, is caused by a reduction in corticosteroid secretion from the adrenal glands. Symptoms can include vomiting, diarrhoea, lethargy, lack of appetite, tremors or shaking, muscle weakness, low body temperature, low heart rate and collapse. If left untreated, Addison's disease can present as an acute, life threatening emergency.
Zycortal is a prolonged-release suspension used as replacement therapy for mineralocorticoid deficiency in dogs with Addison's disease. It has proved highly effective in clinical trials with more than 80 per cent of dogs responding positively to treatment. Zycortal contains desoxycortone pivalate (DOCP) which controls serum electrolytes more effectively than fludrocortisone (Florinef Tablets), the human treatment currently prescribed for dogs with Addison's disease and is considered the preferential drug for mineralocorticoid supplementation.
Zycortal is available as a prolonged-release suspension for injection. It is given at an initial dose of 2.2 mg/kg body weight by subcutaneous injection. Around 25 days after the first injection, the dog's response is evaluated before a second injection is administered. Adjustments in dose rate and/or time interval between injections are made according to blood electrolyte levels and response to treatment. When satisfactory results are obtained then the treatment should continue to be given long-term using the same dose and interval between treatments.
For further information, see the package leaflet
Zycortal replaces the mineralocorticoid only. To replace the deficiency in cortisol, dogs should receive daily oral glucocorticoid treatment such as prednisolone, alongside Zycortal. The recommended starting dose is 0.2 – 0.4 mg/kg body weight/day. The amount of glucocorticoid administered can be adjusted to the individual dog's need – reducing clinical signs associated with overdose of glucocorticoid.
Legal Category
Zycortal is a POM-V (Pet Prescription Required)