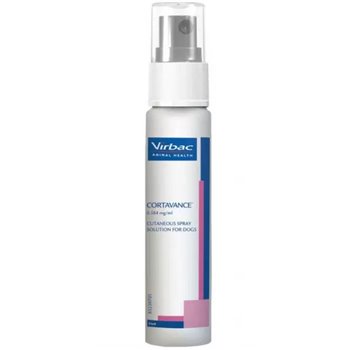 Cortavance Spray is a cutaneous spray solution for symptomatic treatment of inflammatory and pruritic dermatoses in dogs.
Cortavance Spray for Dogs is a highly effective solution for the management and treatment of inflammatory and itchy skin diseases in dogs. Cortavance topical spray is formulated with hydrocortisone aceponate, a potent ingredient renowned for its anti-inflammatory and anti-pruritic properties. It works by targeting the underlying inflammation, reducing redness and swelling, and alleviating the incessant itchiness associated with skin diseases.
The spray is non-greasy and absorbs quickly into the skin, providing rapid relief from discomfort. Its targeted action ensures that the active ingredient is delivered directly to the affected areas, maximising efficacy while minimising systemic absorption.
Cortavance Spray contains fluticasone propionate and delivers the drug directly to the site of action on the skin, where it blocks the release of inflammatory mediators that are thought to contribute to skin inflammation. 31ml. VET PRESCRIPTION REQUIRED