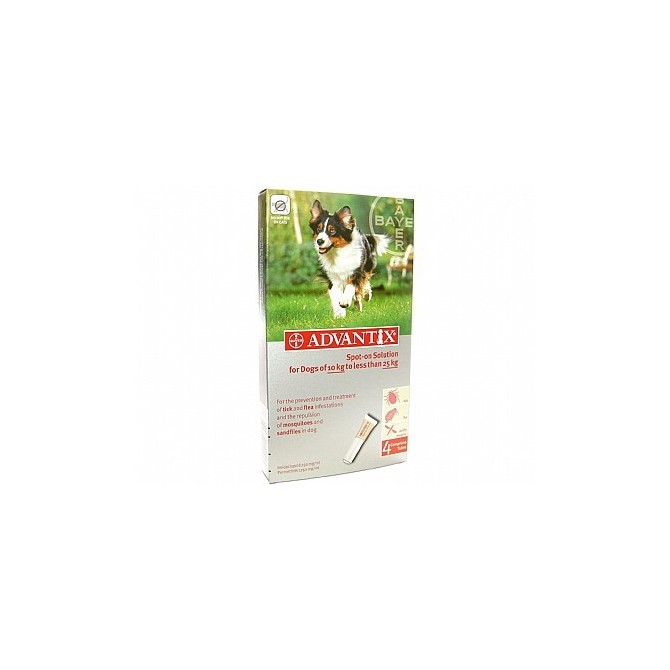 Advantix Flea 250 - Large Dog 10-25kg
Designed exclusively for dogs, Advantix is the only spot-on that kills and repels deadly ticks before they have a chance to bite and attach to your dog
Pack Size: - Sold Individually
Target Animal: - Dog (Canine)
Pet Prescription Required?: - Yes (For UK Orders)
Active Ingredient: - Permethrin &Imidacloprid
Product Name: - Advantix Flea 250 - Large Dog 10-25kg
More Information
add remove
Description
Advantix may only be supplied with a valid veterinary prescription issued by your vet. You should only purchase Advantix if you have or are in the process of arranging such a prescription. See information bar for further details.


Designed exclusively for dogs, Advantix is the only spot-on that kills and repels deadly ticks before they have a chance to bite and attach to your dog. Plus, it protects against fleas and irritating, flying biting insects.
Why choose Advantix?
• Advantix repels and kills paralysis ticks A single adult Paralysis tick can paralyse and even kill your dog. Advantix repels and kills these deadly parasites. (For Paralysis Tick control Advantix for Dogs must be applied every 2 weeks).
• Advantix repels and kills Brown Dog ticks and Bush ticks These ticks can infest in large numbers, becoming unsightly and difficult to rid for dog owners and irritating for dogs.
• Advantix kills fleas fast Stops fleas feeding within 3-5 minutes (1) and kills fleas within 20 minutes of contact, all without the need for fleas to bite first.
Goodbye, Flea Allergy Dermatitis (FAD).
• Advantix repels and kills mosquitoes and sandflies Like their owners dogs can also suffer from mosquito and sand fly bites causing intense itching and scratching. Mosquitoes also have the potential to spread heartworm, infecting dogs as they feed. Speak to your vet about preventing heartworm disease.
• Advantix repels and kills stable flies Stable flies leave painful bites, often drawing blood as they feed most notably around dogs ears.
• Lasts all month and is easy to use Simply apply the dose to the back of your dog between the shoulder blades (see directions for use for dogs over 25 kg). From there it spreads across the skin and through the coat, where it is effective for 1 month. For Paralysis Tick control Advantix for Dogs must be applied every 2 weeks.
Advantix is a clear yellowish to brownish, solution containing imidacloprid and permethrin as active substances and 1.0 mg/ml butylhydroxytoluene (E321) as an antioxidant.
Advantix is presented in a single use plastic pipette for dermal (spot-on) treatment in dogs. Each tube contains 100mg/ml Imidacloprid and 500mg/ml Permethrin.
Advantix is used for the treatment and prevention of flea (Ctenocephalides canis, Ctenocephalides felis) infestations in dogs only. Fleas on dogs are killed within one day following treatment. One treatment prevents further flea infestation for four weeks. The product can be used as part of a treatment strategy for flea allergy dermatitis (FAD).
For the treatment of biting lice (Trichodectes canis). The product has a persistent acaricidal and repellent efficacy against tick infestations (Rhipicephalus sanguineus, Ixodes ricinus for four weeks, and Dermacentor reticulatus for three weeks).
Ticks already on the dog may not be killed within two days after treatment and may remain attached and visible. Therefore the removal of ticks already on the dog at the time of treatment is recommended, in order to prevent them from attaching and having a blood meal. One treatment provides repellent (anti-feeding) activity against sand flies (Phlebotomus papatasi for two weeks and Phlebotomus perniciosus for three weeks), against mosquitoes (Aedes aegypti for two weeks and Culex pipiens for four weeks) and against stable flies (Stomoxys calcitrans) for four weeks.
The recommended minimum dose is: 10 mg/kg body weight imidacloprid and 50 mg/kg body weight permethrin. For dermal use only. Apply only to undamaged skin.
Do not use in cases of known hypersensitivity to the active substances or to any of the excipients. Care should be taken to avoid the contents of the pipette coming into contact with the eyes or mouth of the recipient dogs. Care should be taken to administer the product correctly
Legal category
Advantix is a POM-V (Pet Prescription Required)
Brand