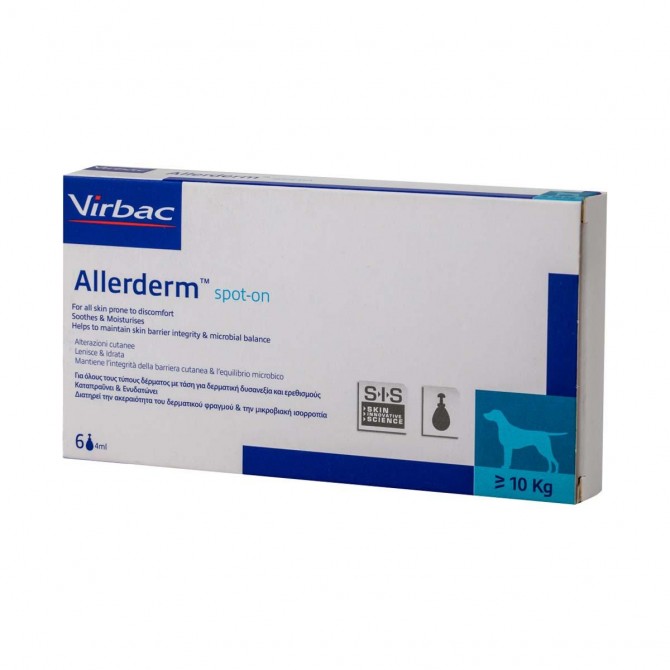 Allerderm Spot on - 4ml x 6 for Dogs
4ml Allerderm Spot on is an easy to use topical product thats proven to help restore the epidermis in dogs suffering from skin problems. 6 Pipette Pack
Pack Size: - Pack of 6
Target Animal: - Dogs and Cats
Related Condition: - Topical skin care for dogs and cats with damaged skin
Pet Prescription Required?: - No
Active Ingredient: - Skin Lipid Complex
Product Name: - Allerderm Spot on 6 x 2ml
More Information
add remove
Description
Allerderm Spot on is an easy to use topical product thats proven to help restore the epidermis in dogs and cats suffering from skin problems.
Allerderm will help restore the lipid layer by filling the gaps, which will help skin repair, reduce skin sensitivity and increase moisture and protection.
Pets with skin diseases and disorders often require multiple products to keep them comfortable, Allerderm Spot on can be used with any of the following treatments to aid skin recovery and health:
Topicals, Immunotherapy, Antihistamines, Cyclosporine and Corticosteroids.
Allerderm spot on is easy to use. Simple shake well before use, hold the pipette upright and twist off the pipette top.
Part your pet's hair until the skin is visible and simply place the pipette directly in contact with the skin, squeeze gently and apply the contents onto the skin.
Administration Guide:
2ml Pipette: Suitable for dogs and cats under 10kg body weight.
4ml Pipette: Suitable for dogs and cats over 10kg body weight.