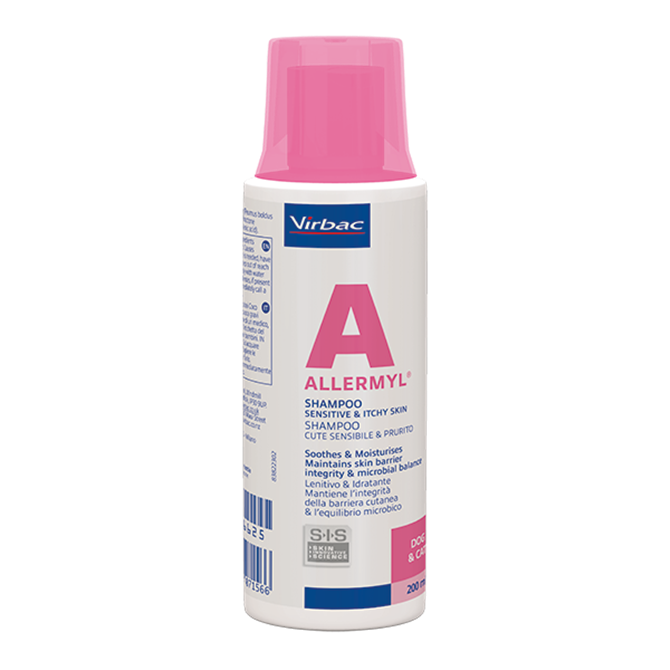 Allermyl Shampoo is a foaming, cleansing, soothing and protecting shampoo for dogs and cats. 200ml
Pack Size: - 200ml
Target Animal: - Any Pet
Related Condition: - Allergies
Pet Prescription Required?: - No
Product Name: - Allermyl Shampoo - 200ml
More Information
add remove
Description
Allermyl Shampoo - 200ml
Allermyl Shampoo is a cleansing soothing and protecting shampoo for dogs and cats.
Allermyl is a foaming micro-emulsion, neutral pH unscented shampoo, used to help soothe irritated skin.
Allermyl contains vitamin E, Linoleic acid and gamma linolenic acid (omega 6) and piroctone olamine.
Recommended to help restore skin damaged by allergic reactions. Allermyl helps to reinforce skin integrity and aids in controlling excesses of bacteria
Contains Defensin technology which works alongside Virbac's existing state-of-the-art Glycotechnology
Contains Skin Lipid Complex which helps to reinforce cutaneous integrity and helps to maintain epidermal barrier function.
Helps to clean, soothe and moisturise irritated skin.
How to use Allermyl

Shake bottle well then wet the coat with warm water and apply a thin layer of Allermyl shampoo from the base of the neck to the base of the tail. Massage Allermyl into the coat with circular motions and rinse. Repeat and then leave on the coat for 5 - 10 minutes. Rinse thoroughly with clean water.
Use Allermyl once or twice weekly or as directed by your veterinary surgeon.
Ingredients: Monosaccharides, vitamin E, linoleic acid and gama linolenic acid, piroctone olamine, neutral pH.
200ml bottle.
Brand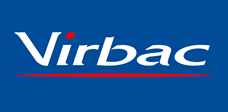 Related Products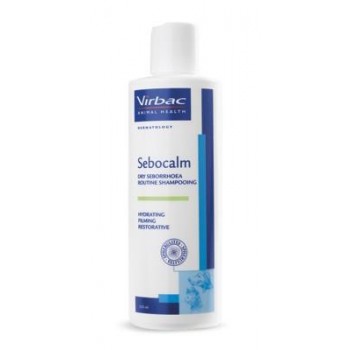 Sebocalm is a gentle, hypo-allergenic shampoo designed for routine use in both dogs and cats.
Sebolytic Shampoo is a medicated shampoo for Cats & Dogs containing a unique combination of ingredients including tea tree oil. 200ml