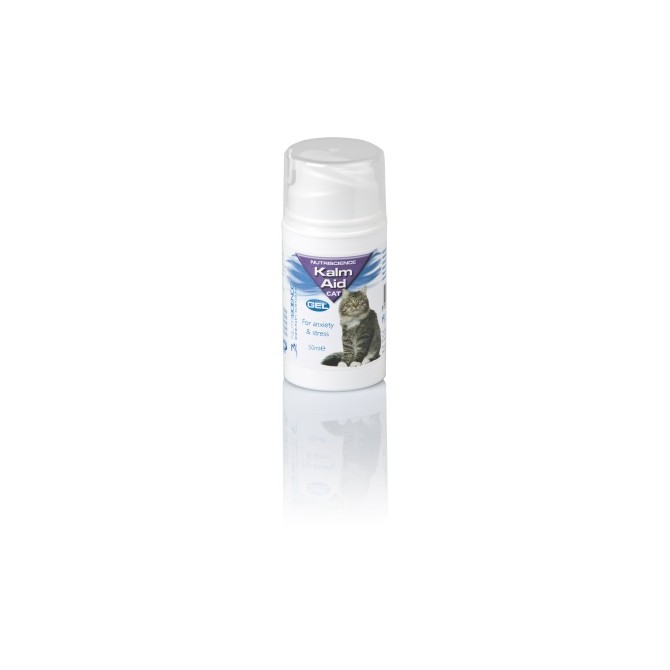 KalmAid Kalm Aid Cat Gel - 50ml
KalmAid Cat Gel is an effective fast acting liquid which promotes relaxation and reduces nervous irritability
Pack Size: - 50ml
Target Animal: - Cat (Feline)
Pet Prescription Required?: - No
Product Name: - KalmAid Kalm Aid Cat Gel - 50ml
More Information
add remove
Description
KalmAid Cat Gel is an effective fast acting liquid which promotes relaxation and reduces nervous irritability. Designed specifically for cats it can be used for situations such as lightning, thunder, firecrackers etc, anxiety due to separation from owner or new environment, fear of travel or unwanted unruly behaviour.
Ingredients: Kalm Aid Cat Gel contains: L-Tryptophan (100mg), Vitamin B6 (20mcg), L-Theanine (60mcg), Vitamin B1 (Thiamine) (0.24mg), Vitamin B3 (Niacin) (1.2mg), Sorbitol, carboxymethylcellolose, caramel extract, potassium sorbate, Sodium Benzoate (as preservative).
Kalm Aid Cat Gel contains : L-Tryptophan and L-Theanine, which cross the blood brain barrier and affect the central nervous system by increasing serotonin levels. L-Theanine works by stimulating alpha waves. Independent clinical research is available on request on modes of action. Thiamine deficiency has been associated with nervous disorders, while Niacin helps L-Tryptophan work to its full potential.
Dosage and Administration
Apply to cat's paw or add to food:
Small cat ½ pump daily
Larger cats 1 pump daily
Brand