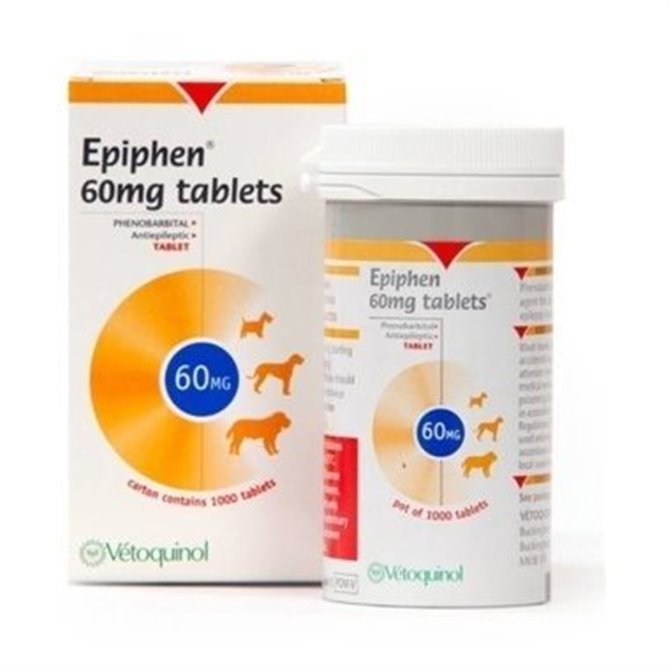 Epiphen Tablets 60mg - per Tablet
60mg Epiphen Tablets are an antiepileptic for use in the control of epilepsy in dogs. VET PRESCRIPTION REQUIRED
Pack Size: - Sold Individually
Target Animal: - Dog (Canine)
Related Condition: - Epiphen is an antiepileptic, for use in the control of epilepsy in dogs
Pet Prescription Required?: - Yes (For UK Orders)
Active Ingredient: - Phenobarbital
Product Name: - Epiphen Tablets 60mg - per Tablet
More Information
add remove
Description
60mg Epiphen Tablets for Dogs
Epiphen may only be supplied with a valid veterinary prescription issued by your vet. You should only purchase Epiphen if you have or are in the process of arranging such a prescription. See information bar for further details.
As this medication is a controlled drug we require that the ORIGINAL prescription is sent to us at: Vetmeds Ltd. Unit 2 Airfield Road Trading Estate, Airfield Road, Podington, Northamptonshire NN29 7XA.
60mg Epiphen Tablets for oral administration. Epiphen tablets are available in two strengths: White circular biconvex tablets plain on both sides containing 30mg phenobarbital. White embossed circular biconvex tablets containing 60mg phenobarbital.
Epiphen is an antiepileptic for use in the control of epilepsy in dogs.
Epiphen Dosage and administration
The required dosage of Epiphen will differ to some extent between individuals and with the nature and severity of the disorder. Dogs should be dosed orally starting with a dose of 2.5 mg per kg bodyweight per day. The dose should be divided and administered twice daily. Steady state serum concentrations are not reached until 1-2 weeks after treatment is initiated. The full effect of the medication does not appear for two weeks and doses should not be increased during this time. If seizures are not being controlled the dosage may be increased by 20% at a time with associated monitoring of serum Epiphen levels. The Epiphen serum concentration may be checked after steady state has been achieved and if it is less than 15 microgram/ml the dose may be adjusted accordingly. If seizures recur the dose may be raised up to a maximum concentration of 45 microgram/ml. High plasma concentrations may be associated with hepatotoxicity. Blood samples could be taken at the same time to allow plasma Epiphen concentrations to be determined preferably during trough levels shortly before the next dose of phenobarbital is due. Tablets are not intended to be subdivided. For accuracy of dosing dogs less than 12kg should commence therapy with Epiphen Solution. Epiphen tablets are not intended to be subdivided.
Legal category
Epiphen is a POM-V CD(Sch 3) - Controlled Drug - Schedule 3 (Pet Prescription Required)
Brand