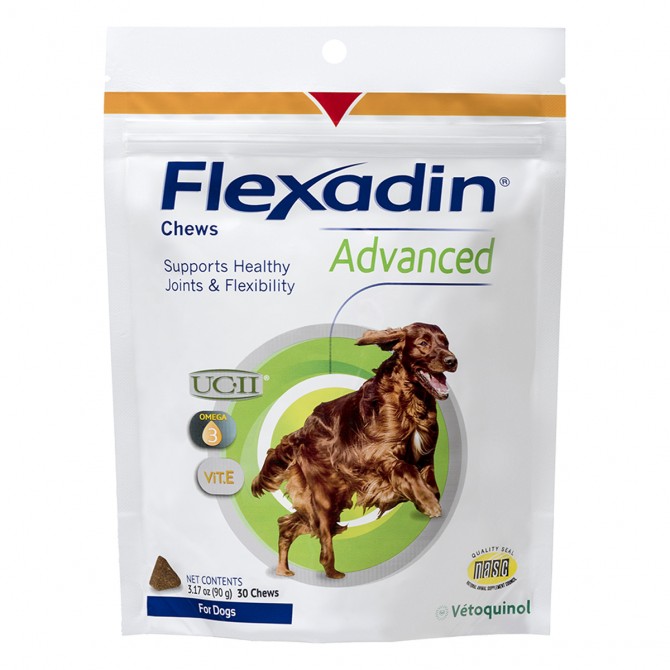 Flexadin Advanced Chewable Tablets for Dogs - Pack of 30
Flexadin Advanced contains a unique combination of active ingredients that supports cartilage. Pack of 30
Pack Size: - Pot of 30
Target Animal: - Dogs and Cats
Pet Prescription Required?: - No
Product Name: - Flexadin Chewable Tablets for Cats and Dogs - Pot of 30 Helps maintain cartillage and suppleness
More Information
add remove
Description
Flexadin contains a unique combination of active ingredients that supports cartilage.
Glucosamine Hydrochloride supports the secretion of GAGs (Glycosaminoglycans) produced by cartilage cells from glucose.
Chondroitin sulphate binds with collagen for tensile strength and control of water content.
Manganese is a necessary co-factor for GAG and collagen synthesis and it facilitates the cross-linking of collagen fibres which helps maintain the tensile strength and flexibility of the fibres.
Harpagophytum procumbens (Devil`s claw) is a natural ingredient unique in its class which offers your pet an improvement in the quality of life in the earlier stages of Flexadin administration.
Through the combination of actions of these four ingredients Flexadin supports normal joint function.
What is in each Flexadin chewable tablet? Glucosamine HCl 99% pure 500mg Chondroitin sulfate 95% pure  400mg Harpagophytum procumbens (Devil's Claw)  150mg Manganese (as Manganese sulfate)  10mg
Administering Flexadin chewable tablets
Initial administration Maintenance After the initial 4-6 week period the number of chewable tablets can often be reduced to a maintenance level.  Reduction should be done gradually in ½ to 1 tablet steps depending on the size of your pet and should not be reduced more than once per month. Administration may be increased at any time depending on your pet's needs.  Chewable tablets can be given to your pet with their food by placing them on top of the food. Alternatively chewable tablets can be given as a treat separate from food so that 'Flexadin time' becomes 'treat time'.  
Brand