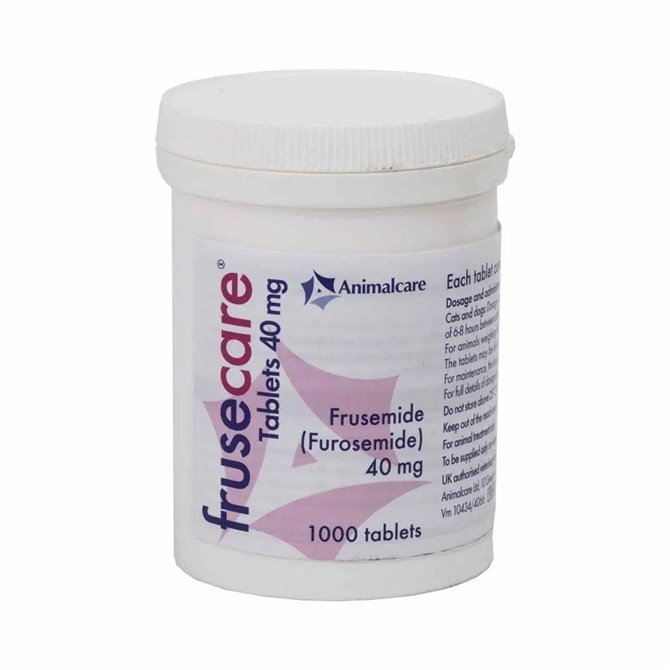 40mg Frusecare Frusemide Tablet - per Tablet
Please Note: We can only supply Frusemide Tablets as part of a complete heart medication order. We cannot supply Frusemide Tablets on their own.
Frusemide Tablets are a potent 'loop' diuretic used in the treatment of oedema. Conditions suitable for treatment include pulmonary oedema and hepatic or renal dysfunction. VET PRESCRIPTION REQUIRED
Product Features
add remove
Pack Size: - Sold Individually
Target Animal: - Dog (Canine)
Pet Prescription Required?: - Yes (For UK Orders)
Active Ingredient: - Frusemide
Product Name: - 40mg Frusecare Tablet - per Tablet
More Information
add remove
Description
This medication may only be supplied with a valid veterinary prescription issued by your vet. You should only purchase this item if you have or are in the process of arranging such a prescription.  See information bar for further details.
Frusemide Tablets containing either 20mg or 40mg of Furosemide. Frusemide tablets are white, circular with bevelled edges and a break-line. The 20mg tablets are flat faced and are embossed 'F20'. The 40mg tablets are bi-convex and embossed 'F40'. Both strengths are embossed CP on the reverse.
Furosemide tablets 20mg and 40mg are for use in cats and dogs only. It is a potent 'loop' diuretic. So called because it acts primarily by inhibiting electrolyte absorption in the loop of Henly. It has a rapid onset of action, normally within 1 hour of administration, but a relatively short duration of activity of approximately 4 hours. These characteristics mean that dosing can be timed within the day, to allow consequent passage of water at socially convenient times. Furosemide Tablets are used in the treatment of oedema. Conditions suitable for treatment include ascites, hydrothorax, pulmonary oedema and oedema of the mammary gland or of the legs, as well as oedema resulting from cardiac insufficiency, hepatic or renal dysfunction, parasitism or of a traumatic origin. Combined therapy with other medicinal products may be indicated.
Dosage: For oral administration only. 5mg per Kilogram bodyweight, one to two times daily. Diuresis occurs within one hour and is normally complete within six hours. Dosing at an interval of at least six hours (and up to ten hours) allows for twice daily dosing, usually without the need for excess urine to be passed during the night.
Not to be used in cats or dogs weighing less than 4 kg in bodyweight
Frusemide is a POM-V (Pet Prescription Required)
Brand