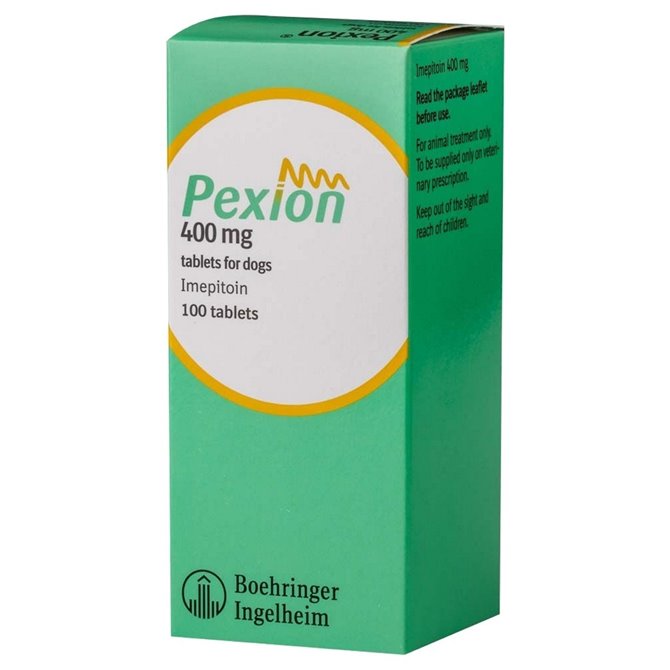 Pexion 400mg Tablet - per Tablet
400mg Pexion Tablets are a treatment for dogs with primary epilepsy. Pexion acts on a specific receptor in the brain cells to reduce the amount of excessive electrical activity present. VET PRESCRIPION REQUIRED
Product Features
add remove
Pack Size: - Sold Individually
Target Animal: - Dog (Canine)
Related Condition: - Epilepsy in Dogs
Pet Prescription Required?: - Yes (For UK Orders)
Active Ingredient: - Imepitoin
Product Name: - Pexion 400mg Tablet - per Tablet
More Information
add remove
Description
Pexion may only be supplied with a valid veterinary prescription issued by your vet. You should only purchase Pexion if you have or are in the process of arranging such a prescription. See information bar for further details.  
400mg Pexion is a treatment for dogs with primary epilepsy. Pexion Tablets act on a specific receptor in the brain cells to reduce the amount of excessive electrical activity present. In this way, like all epilepsy treatments, Pexion acts to reduce the number of seizures that your dog has and their impact on your dog's life. icon
How is Pexion given?
Pexion is available as a white tablet containing 400mg imepitoin. Pexion should be given to your dog by mouth, twice a day. Your vet will advise you on how much Pexion to give to your dog. It is important that you always give the prescribed dose and follow the advice given by your vet. It is also likely that your vet may need to adjust your dog's dose, and will therefore need to see your dog regularly. It is important that you follow the advice your vet gives you on how to give your dog Pexion, and at what dose.
How long does Pexion take to work?
Pexion starts to work within a few hours. However, it may take a little while before you notice an improvement in your dog's seizure pattern because: The majority of dogs with primary epilepsy only experience a seizure every few weeks Your vet may take some time to find the right dose of Pexion for your dog to reduce the frequency of their seizures.
What if a dose of Pexion is missed?
Don't worry, just give the next dose at the normal time. There is no need to increase the dose.
Does Pexion have any side effects?
Normally, dogs tolerate Pexion very well. Side effects, such as increased hunger, thirst or activity levels or any gastrointestinal upsets are generally mild. If any of these do occur, they usually go away over time. If you are concerned about your dog for any reason, please contact your vet for advice.
Will my dog still have seizures while they are taking Pexion?
It is very unusual for any dog with epilepsy to become completely seizure free even after they have begun receiving medication. Pexion Tablets, like all epilepsy medications, is licensed to reduce the number of seizures that your dog will have rather than eliminate them completely.
What will my dog's life be like on Pexion?
As dogs with primary epilepsy are healthy in all other respects there is no reason why your dog should not go on to live a full and happy life. Occasionally it may not be possible to control a dog's seizures regardless of which medications they receive. Your vet will be able to provide information on what you can do if this is the case.
Pexion is a POM-V Medication (Pet Prescription Required)