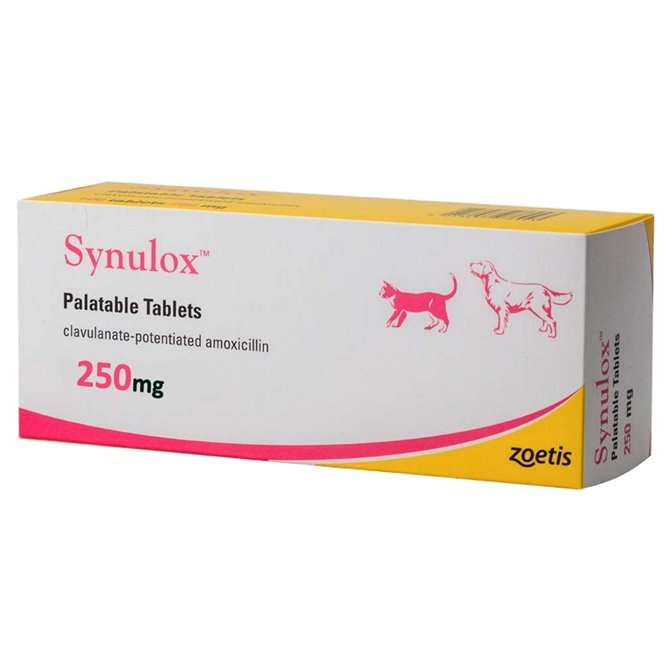 250mg Synulox Palatable Tablet - per Tablet
250mg Synulox Palatable Tablets are an antibiotic that have a broad spectrum of activity against bacteria commonly found in dogs and cats. VET PRESCRIPTION REQUIRED
Pack Size: - Sold Individually
Target Animal: - Dogs and Cats
Pet Prescription Required?: - Yes (For UK Orders)
Active Ingredient: - Amoxicillin and Clavulanic acid
Product Name: - 250mg Synulox Palatable Tablet - per Tablet
More Information
add remove
Description
250mg Synulox Palatable Tablet
Synulox may only be supplied with a valid veterinary prescription issued by your vet. You should only purchase Synulox if you have or are in the process of arranging such a prescription. See information bar for further details. 
Synulox Palatable Tablets are presented as circular, pink tablets with a break line on one face and `SYNULOX' engraved on the other. Each Synulox tablet contains 50 mg clavulanic acid as potassium clavulanate and 200 mg amoxicillin as Amoxicillin trihydrate in a palatable base.
Synulox Palatable Tablets have a broad spectrum of activity against bacteria commonly found in dogs. In vitro Synulox is active against a wide range of clinically important aerobic and anaerobic bacteria, including: Gram-positive Staphylococci (including beta-lactamase-producing strains), Clostridia Actinomyces, Peptostreptococcus spp., Streptococci Enterococci Gram-negative Bacteroides spp. (including b-lactamase-producing strains), Escherichia coli (including beta-lactamase-producing strains), Salmonellae (including b-lactamase-producing strains), Bordetella bronchiseptica, Campylobacter spp., Fusobacterium necrophorum, Klebsiellae, Pasteurellae, Proteus spp. Clinically, Synulox has been shown to be effective in treating a wide range of diseases of dogs including: Skin disease (including deep and superficial pyoderma); urinary tract infection; respiratory disease involving upper and lower respiratory tract, enteritis, dental infections (e.g. gingivitis), soft tissue infections (e.g. abscesses and anal sacculitis). Note: Synulox is not indicated for cases involving Pseudomonas spp.
Synulox Tablet Dosage and administration
Administration By the oral route. Dosage Guide Recommended dose rate is 12.5 mg/kg, twice daily. The table below is intended as a guide only. Bodyweight (kg) Number of Tablets per dose Twice Daily 500 mg 20 kg 40 kg 1 60 kg 1 80 kg 2 For oral administration only. Synulox Palatable Tablets are often accepted from the hand, even by sick dogs. Alternatively, the tablets may be crushed and added to a small quantity of food. The majority of routine cases will respond between 5 and 7 days therapy. Because of the low toxicity profile of Synulox, the dose can be doubled if desired at the discretion of the veterinary surgeon for severe infection. In certain indications, for example canine pyoderma and chronic cystitis, bacterial infection may be secondary to other pathology. For such cases longer courses of antibacterial therapy may be required, in addition to diagnosis and treatment of the underlying condition. In such circumstances overall treatment length must be at the clinician's discretion, but should be long enough to ensure complete resolution of the bacterial disease.
Contra-indications, warnings, etc
In common with other penicillins, Synulox Tablets should not be administered orally to rabbits, guinea pigs hamsters or gerbils, and should be used with care in other small herbivores. Synulox Tablets should not be administered concomitantly with bacteriostatic antibiotics, which are incompatible. Operator warning Penicillins and cephalosporins may cause hypersensitivity (allergy) following injection, inhalation, ingestion or skin contact. Hypersensitivity to penicillins may lead to cross-reactions to cephalosporins and vice versa. Allergic reaction to these substances may occasionally be serious. Do not handle this product if you know you are sensitised, or if you have been advised not to work with such preparations. Handle this product with great care to avoid exposure, taking all recommended precautions. If you develop symptoms following exposure, such as a skin rash, you should seek medical advice and show the doctor this warning. Swelling of the face, lips or eyes or difficulty with breathing are more serious symptoms and may require urgent medical attention. In the event of accidental ingestion, seek medical advice. Wash hands after handling the tablets. For animal use only. Keep out of the reach of children. Pharmaceutical precautions Do not store Synulox Tablets above 25C. Store in a dry place. Dispose of any unused Synulox Tablets and empty containers in accordance with guidance from your local waste regulation authority.
Legal category
Synulox is a POM-V (Pet Prescription Required)
Brand