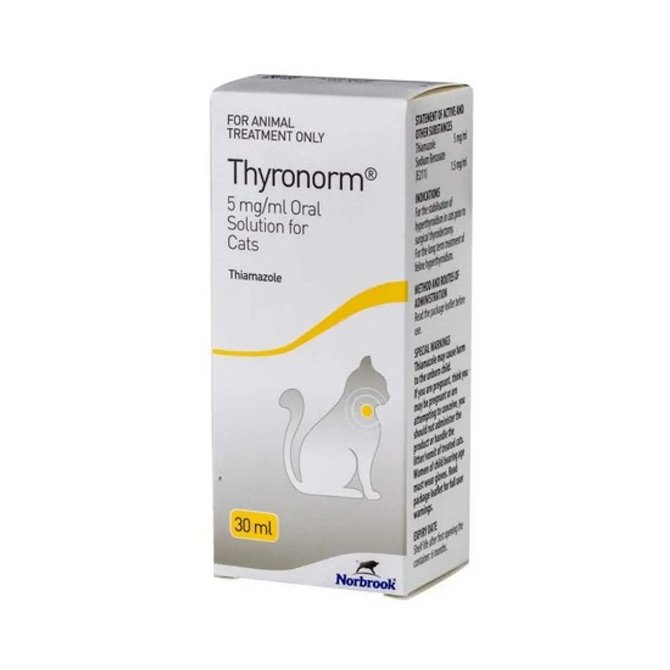 30ml Thyronorm for Cats 5mg/ml Oral Solution
Thyronorm is used for the stabilisation of hyperthyroidism in cats prior to surgical thyroidectomy and the long term treatment of feline hyperthyroidism. VET PRESCRIPTION REQUIRED
Product Features
add remove
Pack Size: - 30ml Bottle
Target Animal: - Cat (Feline)
Related Condition: - Hyperthyroidism in cats
Pet Prescription Required?: - Yes
Active Ingredient: - Thiamazole
Product Name: - Thyronorm for Cats
More Information
add remove
Description
30ml Thyronorm for Cats - 5mg/ml
Thyronorm may only be supplied with a valid veterinary prescription issued by your vet. You should only purchase Thyronorm if you have or are in the process of arranging such a prescription. See information bar for further details.
Thyronorm Oral Solution for Cats contains 5mg/ml thiamazole and can be used for the stabilisation of hyperthyroidism in cats prior to surgical thyroidectomy and for the long term treatment of feline hyperthyroidism
Thyronorm is for oral use in Cats only. Thyronorm should be administered directly into the mouth of the cat. Do not administer Thyronorm in food as efficacy of the product when administered via this route has not been established. For the stabilisation of feline hyperthyroidism prior to surgical thyroidectomy and for the long term treatment of feline hyperthyroidism, the recommended starting dose is 5mg Thyronorm per day. The total daily dose should be divided into two and administered morning and evening.
In order to enhance stabilisation of the hyperthyroid patient the same dosing schedule relative to feeding should be used daily. Haematology, biochemistry and serum total T4 should be assessed before initiating treatment with Thyronorm and after 3 weeks, 6 weeks, 10 weeks, 20 weeks, and thereafter every 3 months. At each of the recommended monitoring intervals, the dose of Thyronorm should be titrated to effect according to the total T4 and to clinical response to treatment. Standard dose adjustments should be made in increments of 2.5 mg (0.5 ml) and the aim should be to achieve the lowest possible dose rate. In cats that require particularly small dose adjustments, increments of 1.25 mg (0.25 ml) can be used.
If total T4 concentration drops below the lower end of the reference interval, and particularly if the cat is showing clinical signs of iatrogenic hypothyroidism (e.g. lethargy, inappetence, weight gain and/or dermatological signs such as alopecia and dry skin), consideration should be given to reducing the daily dosage of Thyronorm and/or dosing frequency. If more than 10mg per day of Thyronorm is required animals should be monitored particularly carefully. The dose of Thyronorm administered should not exceed 20mg per day. For long-term treatment of hyperthyroidism, the animal should be treated for life.