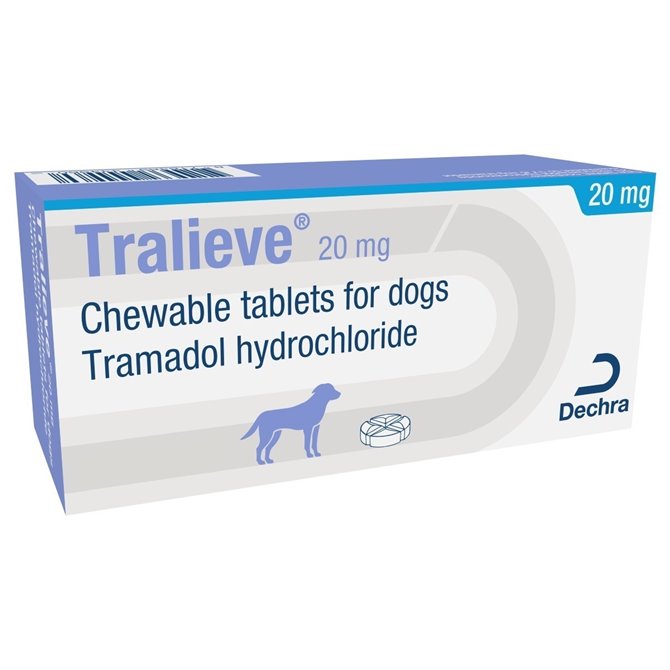 20mg Tralieve Chewable Tramadol Tablets for Dogs - per Tablet
20mg Tralieve tablets for Dogs is a licensed chewable Tramadol Tablet for the reduction of acute and chronic mild soft tissue and musculoskeletal pain. Each 20mg Tralieve tablet is scored with a cross, to split the tablets into four, to enable accurate dosing.
Tralieve for Dogs is an opioid analgesic used to treat short-term moderate to severe pain in dogs. Tralieve is not intended for long-term use and should be used according to the instructions provided by your veterinarian.
CONTROLLED DRUG - ORIGINAL VET PRESCRIPTION MUST BE POSTED TO US
Product Features
add remove
Pack Size: - Sold Individually
Target Animal: - Dog (Canine)
Related Condition: - Acute and chronic mild soft tissue and musculoskeletal pain
Pet Prescription Required?: - Yes - Original paper copy must be posted to us
Active Ingredient: - Tramadol Hydrochloride
Product Name: - 20mg Tralieve Tramadol for Dogs
More Information
add remove
Description
20mg Tralieve for Dogs - Chewable Tablets for Pain Relief in Dogs
Tralieve may only be supplied with a valid veterinary prescription issued by your vet. You should only purchase Tralieve if you have or are in the process of arranging such a prescription. See information bar for further details.
As this medication is a controlled drug we require that the ORIGINAL prescription is sent to us at: Vetmeds Ltd. Unit 2 Airfield Road Trading Estate, Airfield Road, Podington, Northamptonshire NN29 7XA.
20mg Tralieve Chewable tablets for dogs are light brown round, flavoured tablets used to treat acute and chronic mild soft tissue and musculoskeletal pain. Each tablet is scored with a cross, to split the tablets into four, to enable accurate dosing. Tralieve is a medication prescribed to dogs for the alleviation of acute and chronic mild soft tissue and musculoskeletal pain. The tablets are designed to be split into four pieces so that they can be administered accurately.
Tralieve 20 mg tablet: Light brown with brown spots, round and convex flavoured 7 mm tablet with a cross-shaped break line on one side. 20mg Tralieve Tablets can be divided into 2 or 4 equal parts.
Target species: Dogs
Indications for use, specifying the target species - Tralieve 20mg is used for the reduction of acute and chronic mild soft tissue and musculoskeletal pain.
Contraindications Do not administer 20mg Tralieve in conjunction with tricyclic antidepressants, monoamine oxidase inhibitors and serotonin reuptake inhibitors. Do not use in cases of hypersensitivity to tramadol or to any of the excipients. Do not use 20mg Tralieve in animals with epilepsy.
Special warnings The analgesic effects of tramadol hydrochloride (Tralieve) may be variable. This is thought to be due to individual differences in the metabolism of the drug to the primary active metabolite O-desmethyltramadol. In some dogs (non-responders) this may result in the product failing to provide analgesia. For chronic pain, multimodal analgesia should be considered. Dogs should be monitored regularly by a veterinarian to ensure adequate pain relief. In case of recurrence of pain or insufficient analgesia the analgesic protocol may need to be reconsidered
Special precautions for use - Use Tralieve 20mg with caution in dogs with renal or hepatic impairment. In dogs with hepatic impairment the metabolism of tramadol to the active metabolites may be decreased which may reduce the efficacy of Tralieve. One of the active metabolites of tramadol is renally excreted and therefore in dogs with renal impairment the dosing regimen used may need to be adjusted. Renal and hepatic function should be monitored when using this product. Cessation of long-term analgesic therapy should be done gradually whenever possible. Special precautions to be taken by the person administering the veterinary medicinal product to animals. Tralieve may cause sedation, nausea and dizziness after accidental ingestion, especially by children. To avoid accidental ingestion, particularly by a child, unused tablet parts should be returned to the open blister space and inserted back into the carton and kept in a safe place out of the sight and reach of children as they pose a health risk to small children due to accidental ingestion. In case of accidental ingestion, particularly by children, seek medical advice and show the package leaflet or the label to the physician. In case of accidental ingestion by adults: DO NOT DRIVE as sedation may occur. People with known hypersensitivity to tramadol or any of the excipients should avoid contact with the veterinary medicinal product. Wash hands after use.
Adverse reactions (frequency and seriousness) Mild sedation and drowsiness may commonly occur, especially when higher doses of 20mg Tralieve are given. Nausea and vomiting have uncommonly been observed in dogs after administration of Tralieve. In rare cases hypersensitivity can occur. In cases of hypersensitivity reactions the treatment should be discontinued.
20mg Tralieve can increase the effect of drugs that lower the seizure threshold. Drugs that inhibit (e.g. cimetidine and erythromycin) or induce (e.g. carbamazepine) CYP450 mediated metabolism may have an effect on the analgesic effect of tramadol. The clinical relevance of these interactions has not been studied in dogs. The combination with mixed agonist/antagonists (e.g. buprenorphine, butorphanol) and tramadol is not advisable, because the analgesic effect of a pure agonist may be theoretically reduced in such circumstances. See also section 4.3. 4.9 Amounts to be administered and administration route For oral administration.
The recommended dose of Tralieve is 2-4 mg tramadol hydrochloride per kg body weight every 8 hours or as needed based on the intensity of pain. Minimum dosing interval is 6 hours. The recommended maximum daily dose is 16 mg/kg. As the individual response to tramadol is variable and depends partly on the dosage, the age of the patient, individual differences in pain sensitivity and general condition, the optimal dosing regimen should be individually tailored using the above dose and re-treatment interval ranges. The dog should be examined regularly by a veterinarian to assess if additional analgesia is subsequently required. Additional analgesia can be administered by increasing the tramadol dose until the maximum daily dose is reached, and/or by following a multimodal analgesic approach with the addition of other suitable analgesics. The most appropriate tablet strengths should be used in order to minimise divided tablets to be kept until the next dosing. Please note that this dosing table is intended as a guide for dispensing the product at the high end of the dose range: 4 mg/kg bodyweight. It states the number of tablets required to administer 4 mg tramadol hydrochloride per kg bodyweight.
20mg Tralieve is a POM-V (Pet Prescription is required)