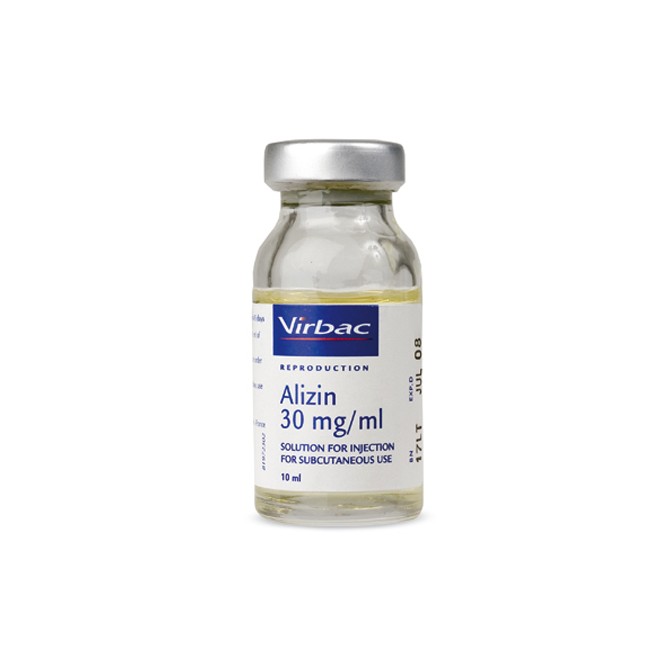 Alizin Injection for Dogs - 10ml
Alizin is used to terminate pregnancy in bitches. It is given by injection and can be used up to 45 days after mating. VETERINARY PRESCRIPTION REQUIRED
Pack Size: - 10ml Vial
Target Animal: - Dog (Canine)
Related Condition: - Induction of abortion in pregnant bitches
Pet Prescription Required?: - Yes
Active Ingredient: - Aglepristone
Product Name: - Alizin Injection for Dogs
More Information
add remove
Description
Alizin Injection for Dogs - 10ml
Alizin may only be supplied with a valid veterinary prescription issued by your vet. You should only purchase Alizin if you have or are in the process of arranging such a prescription. See information bar for further details.
Alizin for Dogs is used to terminate pregnancy in bitches. Alizin is given by injection and can be used up to 45 days after mating. Alizin is best given during the early stages of pregnancy if possible. Alizin works by acting against progesterone in the body, resulting in loss of the pregnancy.
Occasionally Alizin is prescribed by vets for other reasons due to its anti-progesterone effects.
Alizin contains a synthetic steroid counteracting the effect of progesterone by competing with this hormone at the level of the uterine receptors, resulting in abortion (or resorption) within 7 days after administration. Alizindoes not modify progesterone, prostaglandins, oxytocin or cortisol plasma concentration within 24 hours after its administration but it induces a discharge of prolactin within 12 hours. In vitro, the affinity of Alizin for the progesterone receptors in the uterus of the dog is 3 times higher than that of progesterone. The relative binding affinity of Alizin to glucocorticoid receptors is similar to that of dexamethasone but aglepristone has antagonistic properties.
Legal Category
POM-V (Pet Prescription Required)