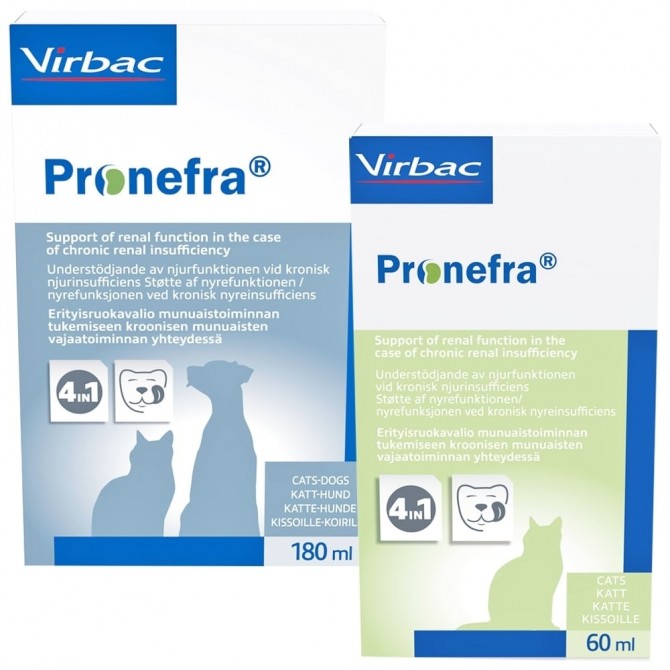 Pronefra for Cats and Dogs - 180ml
Pronefra for Cats and Dogs is a unique 4-in-1 oral suspension to support the normal function and health of kidneys in cats and dogs. 180ml Syringe
Pack Size: - 180ml
Target Animal: - Cats and Dogs
Pet Prescription Required?: - No
Product Name: - Pronefra for Cats and Dogs - 180ml
More Information
add remove
Description
Pronefra for Cats and Dogs is for the support of renal function in the case of chronic renal insufficiency.
Pronefra is a unique 4 in 1 innovation, Pronefra's formula is based on the combination of 5 ingredients corresponding to 4 properties.
Calcium Carbonate & Magnesium Carbonate – Limits the bioavailability of phosphate.
Chitosan – Binds uraemic toxins
Polysaccharides of Astragales – Helps maintain normal kidney architecture.
Natural Vasoactive Marine Oligopeptides – Helps to maintain balanced blood pressure.
Pronefra for Cats and Dogs has been developed to be highly palatable for optimal compliance, allowing a higher consumption rate than other solutions.
Administration: Pronefra is an easy to use liquid that can be given directly into the mouth or mixed in with your pets food. Pronefra is supplied with a graduated syringe (based in weight in kg) for accurate and easy dosing.
Presentation:
60ml for Cats 1 month administration for a 4kg cat.
180ml for Cats and Dogs 3 month administration for a 4kg cat 1 month administration for a 15kg dog