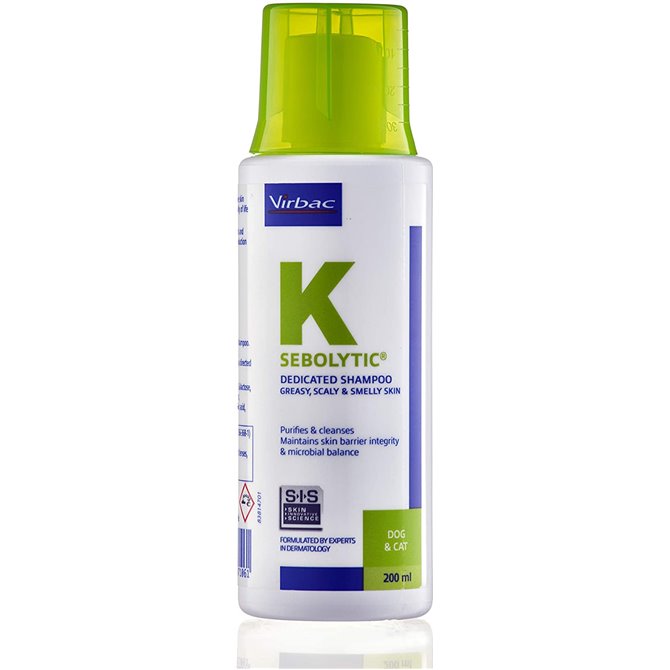 Sebolytic Medicated Shampoo - 200ml
Sebolytic Shampoo is a medicated shampoo for Cats & Dogs containing a unique combination of ingredients including tea tree oil. 200ml
Pack Size: - 200ml
Target Animal: - Dogs and Cats
Pet Prescription Required?: - No
Product Name: - Sebolytic Medicated Shampoo - 200ml
More Information
add remove
Description
Sebolytic Shampoo is a medicated shampoo containing a unique combination of ingredients including tea tree oil. Sebolytic Shampoo may be used as an aid in the management of scaly and greasy skin conditions in dogs and cats if recommended by your vet.
Sebolytic is a tar free shampoo formulated to meet the specific needs of dogs and cats with severe scaly and greasy skin conditions by:
* removing excess scales
* regulating the keratinisation process
* regulating sebum production
* re-establishing the natural skin balance and soothing the skin
Directions for use:
Wet coat with warm water and apply Sebolytic Shampoo by pouring evenly onto the skin and coat surface. Massage the whole body of the animal and then rinse. Repeat the procedure and leave for 5-10 minutes before rinsing throughly with warm water.
Use Sebolytic Shampoo twice or three times a week or as directed by your vet.
Brand